Integrating professional DALI lighting control & C-Bus home automation.
DALI is an acronym for Digital Addressable Lighting Interface.


DALI is an International Standard lighting control system in which DALI Ballasts, LED drivers, transformers, phase cutting dimmers, switches, sensors, controllers and battery-backed emergency lights from different manufacturers work together.


A Clever Home automation Engineer may make professional energy-efficient full-range dimming DALI Electronic Control Gear (ECG) available to home owners, under flexible C-Bus home automation control.


Enjoy bright energy-efficient LED lighting in your home driven by energy-efficient DALI LED drivers with their full-range dimming capability and long lifetimes.


Why stop at battery-backed heat or smoke detectors when you can also have battery-backed home emergency lighting? Better protect your family when power is lost, and reduce the need to use torches and fire-hazard candles during blackouts.


DALI lighting control brochure
DALI lighting and lighting control catalogue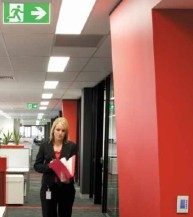 DALI DCBMLIC monitor software
DALI DCCOM1 wizard software
DALI DCEMEV reporter software
C-Bus 5502DAL DALI Gateway
DALI DCDM1/2-1608 line controller
DALI DCDALCI/2 isolated interface
DALI DCDALGC/SC control module
DALI DCDALIO-0402/02 controller
DALI DCDALP200/250 power supply
DALI DCLCD35 screen controller
DALI DCLCD70 t/screen controller
DALI DCP12/24 power supply
DALI Emergency Lighting
DALI 5-Pole wiring system
DALI installation schematics
C-Bus 5502DAL installation
C-Bus 5502DAL programming