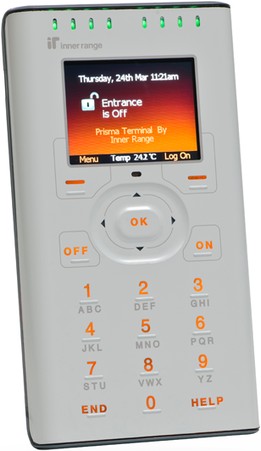 Ask a Clever Home automation Engineer to bring Award-Winning Inner Range integriti security and access control to your home.
The brilliant integriti is the result of over 20 years of professional security system experience and successive product development.


Easy-to-use integriti Prisma colour graphic display keypads. These are a factory firmware-upgraded version of the C4000 Prisma Terminal. A new "SI" version of the Integriti Prisma terminal elegantly houses an in-built Inner Range SIFER proximity card reader for access control, or high-security "Card + PIN" authentication.


Support as many users, areas, zone inputs, and security keypads as your home requires - without being restricted to the more limited capacity of other home security and automation systems.


Monitor and control your integriti home security, access control and automation from your mobile phone or tablet over the Internet using the integriti Mobile App and SkyTunnel cloud service - or from your PC using Integriti Professional or Express software.


Enjoy the additional security of base-station monitoring via Internet, landline or mobile phone path, and occupancy simulation.


Powerful Scripted Logic in the integriti supports new levels of security, access control, and C-Bus home automation integration.


The new integriti Security Controller (ISC) hardware includes:
- Ethernet port for Web Server and Web Based Administration, and new seamless IP based Multi-Controller system architecture options.
- UniBus Peripheral Interface for easy plug-and-play expansion.
- Intelligent power control using Smart Fuses.
- Backward compatibility with most Concept LAN modules.
- Remotely flashable firmware, in the ICS and new LAN modules.


Winner of Benchmark Magazine's prestigious Innovation Award for Best Access Control System 2014, and under continuous further development.