Quality Krix Symmetrix home theatre and home automation multi-room audio in-wall speaker.
Modelled on the highly regarded Krix Tryptix on-wall speaker, the symmetrical 3-driver 2-way Krix Symmetrix provides similarly impressive performance but in a concealled in-wall format.
Ideal for high quality home theatre, stereo, or multi-room audio.
Dual 100mm bass drivers and a 26mm ring radiator tweeter produce very well balanced tonal structure with bass, midrange and high-frequency clarity that will greatly surpass any 'invisible' in-wall speaker.
The Krix Symmetrix has a fully enclosed rear cabinet for the best possible bass performance regardless of wall cavity size/shape.
These high performance Krix Symmetrix speakers will retrofit into a standard 70mm stud wall through 10mm plaster.
The Krix Symmetrix grilles have a slim stylish rust resistant stainless steel bezel, and white grilles can easily be painted to match your décor.
Krix loudspeaker catalogue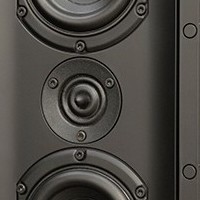 View large Krix Symmetrix photo


Ask Clever Home to include
Krix Symmetrix speakers in your
automated/non-automated home.


See also:
Krix Scenix in-wall speakers
Home theatre & multi-room hi-fi