Krix Dynamix - the best friend you will want hanging around.
It can be challenging finding quality surround speakers, that complement your front Krix floor standing or bookshelf speakers, and also fit into your home theatre room.
Now you can mount no-compromise Krix Dynamix speakers on your rear home theatre wall, using the supplied flush mount wall brackets.
The Krix Dynamix is an on-wall version of the award winning Krix Equinox speaker, and sounds perfect with other Krix speakers.
Choose from three standard colours in genuine timber veneer or vinyl: Black Ash/Woodgrain, Atlantic Jarrah, American Cherry.
Request your own Krix custom finish to match your home d&eacutecor!

Krix Dynamix on-wall speaker brochure

Krix loudspeaker catalogue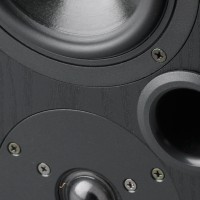 View large Krix Dynamix photo


Krix Phonix on-wall speaker
Krix Tryptix on-wall speaker
Krix Ecliptix in-wall speaker


Home Theatre & Multi-room Hi-Fi