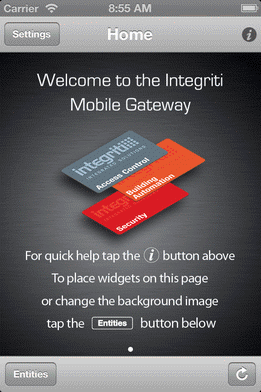 The new Integriti mobile App is the easiest way to remotely monitor and control your Inner Range integriti security, access control and home automation.
Easy to use, with intuitive navigation, and a rich graphic interface.


Arm or Disarm security areas your Integriti security and home automation system remotely.


Lock or Unlock your doors or gates remotely, and operate home automation lighting and appliances, with advanced timing control.


Check the status of security and home automation inputs, and remotely isolate/de-isolate them.


Create background floor plan graphics with icon overlays customised for your home (see below), or add your own background images from your smart phone or Internet tablet's Camera or Camera Roll.


Remotely review the colour-coded Integriti security event log, and apply time or event-category filters.


Different users may connect with an Integriti security panel from the same Integriti App running on a shared smart phone or Internet tablet, each accessing personalised user display maps, Widgets and settings.


Seriously secure. A corresponding authorised user must exist on the Integriti security panel that they wish to connect to. Each authorised user may only remotely access those entities and menus for which they have been selectively granted remote access permissions.


The industry-first SkyTunnel cloud service allows you to easily connect to a suitably licensed and programmed Integriti home automation and security panel, without needing to set up and maintain special router firewall or port forwarding rules.


Available from the Google Play Store for Android v3.1 or later devices, or from the Apple App Store for Apple iOS 6.0 or later on the iPhone (optimised for iPhone 5), iPod touch, or iPad.