Krix Harmonix - Eloquent 3-way floor standing speaker.
Your Krix Harmonix 3-way 4-driver floor standing speakers provide tight bass, dynamic non-fatiguing vocal midrange, and detailed highs. They add class to your home theatre or stereo listening room.
The new Krix Harmonix replaces the highly respected Krix Symphonix, and offers a sealed midrange enclosure, and front-vented main bass chamber with internal and external flared port.
Enjoy beautiful tonal balance and soundstage reproduction
Bi-wire or Bi-amp your Krix Harmonix for more refined sound.
Choose from three handsome genuine lacquered timber veneer finishes: Black Ash/Woodgrain, Atlantic Jarrah, American Cherry.
Request your own Krix custom finish to match your home d&eacutecor!
Krix Harmonix 3-way floor standing speaker brochure
Krix speakers catalogue
Krix speaker owner manual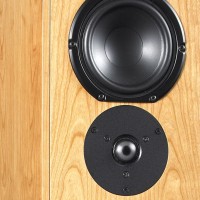 View large Krix Harmonix photo

See also:
Krix Floor Speakers
Krix Apex floor speaker
Krix Phoenix floor speaker
Krix Neuphonix floor speaker
Krix Seismix 1 active subwoofer
Krix Seismix 3 active subwoofer
Krix Volcanix Active Subwoofer
Home theatre & multi-room hi-fi