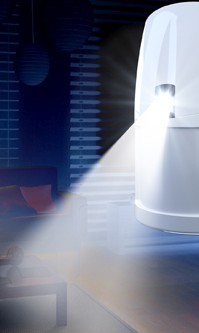 Upgrade your security with a Ness Lux HW home automation security PIR and light detector with automatic LED night light.
No more stumbling about in the dark! An aesthetically integrated white LED night light automatically illuminates your room.
Your new LED night light may work after mains power failures using your battery-backed security system power supply.
Completely silent operation using a solid state relay and OC outputs.
Your Ness Lux HW is also a premium quality security PIR detector.
A unique adjustable sensor mask converts the Ness Lux HW from full PIR with "Creep zone", to normal PIR, or to Pet Tolerant PIR.
High quality patented Fresnel lens and Quad PIR sensor with temperature compensation for superior movement detection.
High immunity to RF, ESD and white light.
15m x 15m 90° coverage with adjustable range and pulse count.
Mounts directly to walls and corners, or on a wall/ceiling bracket.
Easily removeable capsule design with sealed electronics.
Front cover tamper protection.
10-15VDC 10mA operation, plus 20mA for WLED night light.
Ask a Clever Home automation Engineer about also controlling your Ness Lux HW white LED night light from your wall switches, touch screens, or mobile devices - and triggering home automation responses from your Ness Lux HW PIR/light sensors.
Ness Lux HW PIR home automation security detector brochure
Ness Lux HW PIR home automation security detector installation