Quality Krix Epix home theatre in-wall speaker.
Now discerning home theatre buffs can enjoy superior reproduction, dynamic midrange and deep bass extension from an in-wall speaker.
The Krix Epix is an aesthetically-discrete in-wall version of the award winning Krix Neuphonix / Epicentrix floor standing and centre channel speakers - so you know to expect something special.
Each Krix Epix in-wall speaker comes complete with mounting hardware, plasterboard fixings, and features a solidly braced back enclosure.
Krix Epix in-wall speakers are ideal in your medium to large sized home theatre or stereo listening room.

The removable cloth-covered grille frame may be dyed to match your wall colour, helping your Krix Epix to further disappear.
Krix Epix back box installation manual
Krix Epix front baffle installation manual
Krix loudspeaker owner manual
Krix loudspeaker catalogue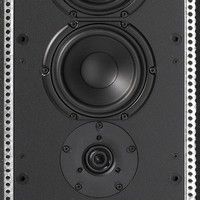 View large Krix Epix photo


Ask Clever Home to include Krix
Epix speakers in your automated
home during construction.


See also:
Krix Scenix in-wall Speakers
Home theatre & multi-room hi-fi