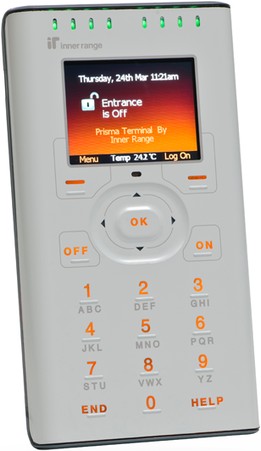 Ask Clever Home to bring genuinely professional Inner Range Concept 4000 security, access control and automation to your home.
Beautiful easy-to-use Inner Range security Prisma Terminals.
Handsome weatherproof Inner Range outdoor keypads.
Waterproof dust proof IP68 rated vandal-resistant metal case.
Integrated door access control and gate access control.
Support as many users, areas, zone inputs, keypads and security touchscreens as your home requires - without being restricted to the more limited capacity of other home security systems.
Directly monitor and control your Inner Range home security, access control and automation by SMS from your mobile phone, using the Fratech FE3000S Serial GSM modem module.
Enjoy the additional security of base-station monitoring via landline and mobile phone path, and active home occupancy simulation.
NEW INTEGRITI security/automation system now available