Krix Seismix 1 Mk3. The best compact active subwoofer under $900?
Enjoy this compact and economical active subwoofer in your home theatre from the Australian company that cinemas use - Krix.
Enjoy a deep 200mm down-facing driver and 150W RMS amplifier in a small aesthetic beautifully crafted timber enclosure.
Ideal for your home theatre or stereo for powerful natural bass.
Choose from three standard colours in genuine timber veneer: Black Ash/Woodgrain, Atlantic Jarrah, or American Cherry.
Request your own Krix custom finish to match your home d&eacutecor!

Krix loudspeaker catalogue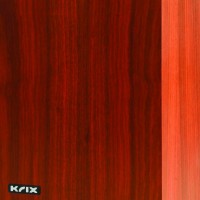 View large Krix Seismix 1 photo
Where has the driver gone?

See also:
Krix Active Subwoofers
Krix Tektonix active subwoofer
Krix Volcanix active subwoofer
Krix Seismix 3 active subwoofer
Home theatre & multi-room hi-fi