Krix Holographix - if you like ceiling speakers heard but unseen.
How small and inconspicuous can an in-ceiling speaker be?
A tiny Krix Holographix ceiling speaker is similar in diameter to a ceiling downlight - it simply blends in with your ceiling lighting!
Aesthetic Krix Holographix ceiling speakers also sound great.
Ideal rear surround speaker in smaller home theatres, or for multi-room audio in kitchens, bathrooms and ensuites, or outside under eaves.
Also ideal for external use with Mobotix S15 camera/door-station.
For larger rooms use multiple pairs of Krix Holographix speakers.
Easy installation: drill a 83mm hole in your ceiling, connect your in-ceiling speaker cables, insert your Holographix into your ceiling.

Purchase Krix Holographix speakers directly from Clever Home.
Krix Holographix downlight size in-ceiling speaker brochure
Krix Holographix speaker installation manual
Krix Holographix speaker dimension diagram
Krix in-ceiling/wall speaker installation guide

Krix speaker owner manual Krix speakers catalogue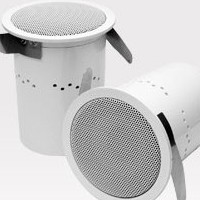 View large Krix Holographix photo


See also:
Krix In-Ceiling Speakers
Krix Hemispherix speaker
Krix Atmospherix speaker
Krix Ecliptix in-wall speaker
Home theatre & multi-room hi-fi
Clipsal C-Bus multi-room audio
C-Bus multi-room amplifiers
Multi-room audio essentials
What is multi-room audio?