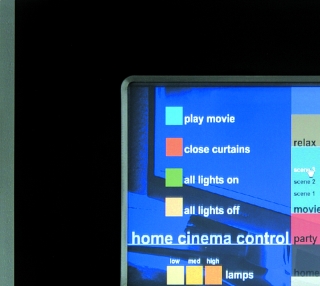 Automatic lighting with movement and/or low light level, time-of-day schedules, or Exit and Entry path illumination when your security system is Away Armed and disarmed. Then there is also re-active home occupancy simulation.


Electric blinds, curtains, roller shutters or windows. Control individually and/or in room or entire home groups. Automatically operate (open or close) based on schedules, external light level, or for home occupancy simulation.


Water feature pumps and automatic watering solenoids and swimming pool equipment.


Projector screens that smoothly descend as a movie lighting scene gradually implements, then ascend with lights dimming up smoothly when finished, all at a single touch.


Televisions and audio equipment that are automatically turned off completely at the wall socket when leaving home or going to bed, and operated by IR remote control from your C-Bus home automation when you are home.


Irons that are automatically turned off when leaving home and after preset time periods, so you don't need to worry.


Control Mobotix IP camera digital PTZ views, enable/disable recording and MxActivitySensor advanced directionally-sensitive movement detection, set custom exposure windows for different views, and more.