Krix Symphonix - Elegant efficient 2-way floor standing speaker.
Your Krix Symphonix 2-way 3-driver floor standing speakers add elegance and class to your home theatre or stereo listening room.
The Krix Symphonix is also a very efficient speaker that fills large rooms with silky smooth audio from even modest power amplifiers.
Enjoy beautiful tonal balance and soundstage reproduction
Bi-wire or Bi-amp your Krix Symphonix for more refined sound.
Choose from three handsome genuine timber veneer finishes: Black Ash/Woodgrain, Atlantic Jarrah, American Cherry.
Now superseded by the Krix Harmonix floor standing speaker.
Krix Symphonix 2-way floor standing speaker brochure
Krix speakers catalogue
Krix speaker owner manual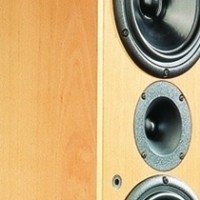 View large Krix Symphonix photo

Krix Floor Speakers
Krix Apex floor speaker
Krix Phoenix floor speaker
Krix Neuphonix floor speaker
Krix Seismix 1 active subwoofer
Krix Seismix 3 active subwoofer
Krix Seismix 5 active subwoofer
Home Theatre & Multi-room Hi-Fi