Looking for the best home video intercom door station available?
Your T24 video intercom door station incorporates a professional Mobotix 3 Megapixel 360 degree security IP camera, with built-in analytics and lip-sync audio and audio-video recording.
You may see and record wall to wall, floor to ceiling, with no blind spots using your Mobotix T24 door station.
You can digital Pan-Tilt-Zoom (PTZ) on live or recorded video.
Your Mobotix T24 has no moving parts for long trouble-free use.
Receive calls on any compatible SIP phone device in your home over your LAN or WiFi wireless network, or outside your home over the Internet: MxDisplay, SIP video phones, Android or Apple phones and Internet tablets, and PCs running SIP software.
Free Mobotix iPad/iPhone App provides a premium quality mobile user interface to your T24 IP door station.
Enjoy keyless entry access control by PIN or proximity card.
Highly suitable for multi-tenant applications when using the BellRFID 1-5 call button and RFID proximity card reader module.
A Mobotix Security Door Opener module securely located inside:
(a) Receives encrypted access data and releases a door/gate.
(b) Provides an internal door bell speaker and status indicators.
(c) Maintains battery backed access control if mains power fails.
Clever Home automation of your Mobotix T24 can include:
(a) Automatic T24 recording during security alarms, entry or exit.
(b) Manual T24 recording you may initate any time from home automation touch screens or switches.
(c) Automated lighting with T24 movement or mic detection.
You may use non-Cat5/6/7 cable between the Mobotix T24 door station and your LAN. The T24 door station backlit address and name panel can include an Mx2wire interface - the "Info2wire".
Enjoy user-specific voice messaging outside at your door station.
The Mobotix T24 starter kits are the easy way to obtain the most popular T24 IP door station modules all in one pack.
Future-proofing Mobotix T24 firmware updates for free.
Enjoy greater value by asking a Clever Home Engineer to professionally design and program your Mobotix T24 door station - either as a superb quality standalone home access control and surveillance system, or as an integrated part of a larger home automation solution.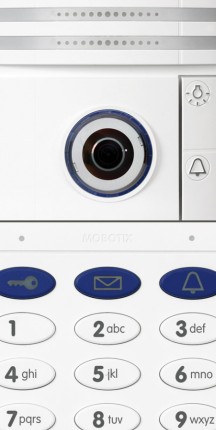 Mobotix IP cameras
Why Mobotix are No.1
Benefits of Mobotix IP cameras
Grandstream GXV3140 IP phone


Mobotix MxDisplay
Mobotix IP cameras
Mobotix installation manuals